Nasdaq! We'll be watching your every move.
For the Nasdaq, we're looking for a modest move higher on Monday and Tuesday.
After that, I think we'll see a strong move on Wednesday and Thursday, when we have the CPI and PPI releases.
At that point, the Nasdaq could go down hard.
hello. I wish you all the best in your trading. This is Tirano.
Last time, we talked about crude oil, which you can check out at the link below.
https://tinong.co.kr/category/%ed%8a%b8%eb%a0%88%ec%9d%b4%eb%94%a9/
Writing today's briefing was even more difficult than usual.
Bitcoin could end the week with a doji candle on the monthly chart if there is no significant movement.
All markets are in the calm before the storm, with no volatility.
Last week's milestones are still in effect. We're going to review what we covered last week.
Let's see what monitoring points have been added.
The important thing is that 25300!
Bitcoin(btc) chart – 1day
Currently, Bitcoin is trading in a consolidation range with the 25350 area as a base.
I was thinking of opening a new short position at 26800, which was my previous long position. However, Bitcoin's rise did not reach that level. Instead, it closed at the 26440 level. It's a crazy situation.
The next day, it was all wiped out by a negative candle.
I wanted to approach it from a buy perspective. However, I am not currently feeling compelled enough to buy.
See how the candles are getting smaller and smaller?
I'm thinking that the order of things is that the long candles come first, regardless of whether it's a black or white candle.
After that, I think it would be beneficial in terms of time and risk to see the direction of the breakout, whether it's a breakout position or a retracement position, and then make a trade after that.
You have to check this.
One thing I would like to point out in today's briefing is that whatever the price is, it's likely to break [on the 5th].
First, August 17 low price is 25166
Second, August 22 low price is 25300
Third, September 1 low price is 25333
Fourth, September 6 low price is 25372
In combination with #4, we can also analyze the 25200-25300 level as "support".
However, that's a conclusion that can only be made once the price rises from the current level.
If the price drops to that level once again, it will most likely be on a breakout to the downside.
It's important to keep this in mind.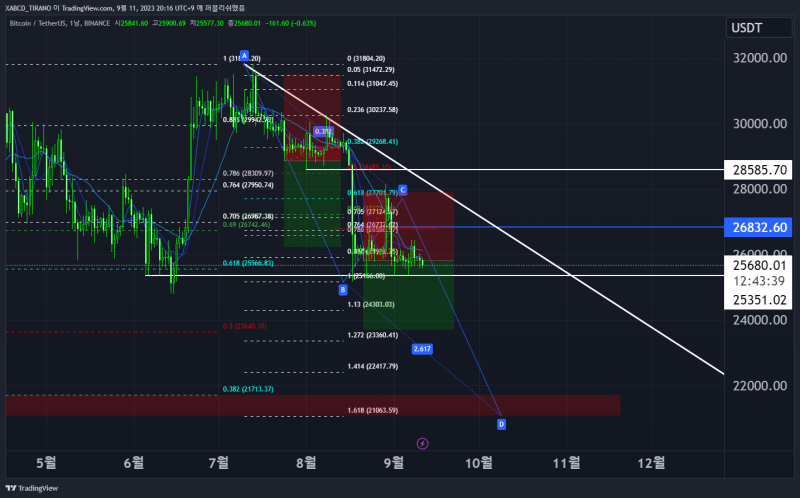 Bitcoin Continuous Declining Triangle and Downtrend Line
In mid-August, Bitcoin formed a declining triangle, which resulted in a significant drop.
In September, as in July and August, we are seeing the same kind of convergence in the form of a declining triangle, and a break of the pattern targets as low as 23700, with support below that at 21k, as a reminder.
Will there be a winter on the Nasdaq?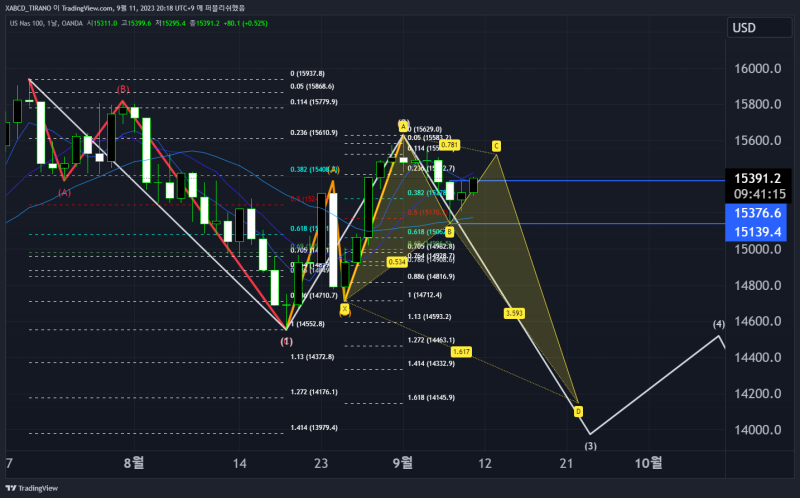 Nasdaq Daily Elliott Wave + Harmonic Pattern
Next, let's take a look at the Nasdaq daily.
Last week, we talked about a three-wave decline in the Nasdaq.
We talked about the possibility that the Nasdaq could fall to 14000 if it fails to break above the 15940 high.
Let's take a look at the added monitoring points, notice the yellow harmonic pattern in the center.
Now, I thought that the sideways 20-period moving average on the daily chart would be an automatic door and we would break down in one fell swoop, but the Nasdaq bounced back from that area.
Coincidentally, it's about halfway through the bull wave from 14700 to 15600.
I would argue that if this bounce fails to break above the high represented by 15630 (A), the Nasdaq could be in for a major pullback.
A conservative sell point would be the 15530 area. Aggressively, we could also target the 5-period and 10-period dead crosses currently in play. However, please note that the range to the A-high is about 1.5%, so it is quite a distance to utilize leverage.
[As for the monitoring points for the current period, you can pay attention to whether the price will break out of point (A) or point (B) first].
If it breaks (B), you can think about taking profits between (B) and (X), depending on whether or not it can further break (X). You can also plan to hold until (D) after confirming the break of (X).
As I continue to monitor the Nasdaq, I'll be watching and reporting back.
Crude oil is going up, right?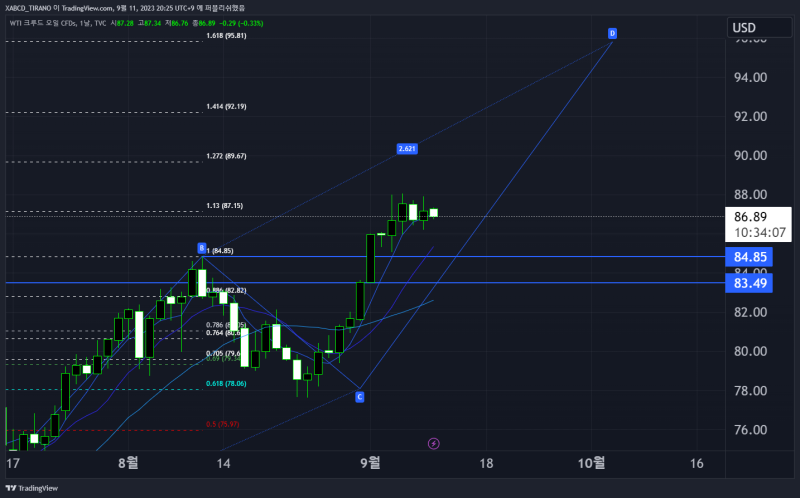 Crude oil chart – 1day
In the case of Crude Oil, I was expecting a big move higher as it continued to move higher.
In fact, every day for the past week, I've taken a short, take-profit trade before the main market, and today I did the same, going long during the pre-market.
What I'm looking at now is the 5-period moving average of the daily chart.
I'm still considering the possibility of a move above this level, but if my stop loss is triggered today, my position will have failed to support the level.
I would then consider a retest position, and if we can get up to the 84 level, where the existing high is located, and the 20-period moving average, I would expect to see support there.
So again, I'm going to go with a long view for now, but we'll monitor it and give you feedback on whether or not it breaks out.
If you found this insightful, please give it a thumbs up.
If you have any questions, feel free to leave a comment.
You can also check out our YouTube channel~.
https://www.youtube.com/channel/UCUgY9KTNyF_IAz2vW8rwJtg