Today, we're breaking down Bitcoin.
Hello and best wishes for healthy trading. This is Tirano.
This week was a big one for Crude Oil.
We had a lot of long Crude Oil positions last week, right?
We successfully took profits on our longs for Crude Oil.
In addition, the Nasdaq had a short entry that we've been waiting for, and the same goes for Gold.
We took some decent short-term profits.
Now it's just a matter of waiting to see what happens next and chasing moderately.

Bitcoin considered a plunge after the 25200 breakout, but managed to bounce back.
Today, we'll focus on the key monitoring points for Bitcoin and what to do next.
Let's take a look at the weekly timeframe first.

Bitcoin's ongoing weekly opening price is 25840.
After four black candles, we are on our way to our first white candle.
The scenario we can consider on the weekly chart is a big range of 24800 to 31000.
However, it is unlikely to be a smooth ride.
First, we need to break the upper tail 28140 area that occurred just before.
If it does, we can look forward to 30,000.
However, all the MAs are dead-crossed, and the 20-period MA is also at 28000.
So, it's hard to hope for a blind bull run.
From the weekly chart, we can see that.
We should take profits whenever the opportunity arises.
Facts from the Bitcoin daily chart
Bitcoin daily chart
Bitcoin daily chart. Currently, the information available on the weekly and daily charts is quite limited.
Here's what we can learn from yesterday's Bitcoin daily close
the distance between the high and low price is large. (The upper tail is long)
the size of the body and the upper tail are similar.
the closing price is below the daily 20-period moving average.
the price closed by rolling up all the previous black candles.
You can see that.
Using yesterday's daily price as a key, you can plan today's day trade.
You can approach it as a small range trade with the high and low as your stop losses.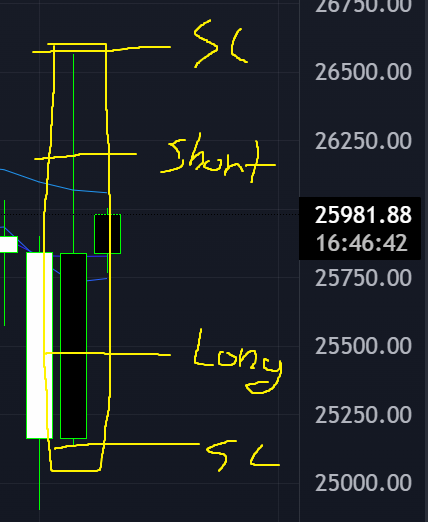 The P&L ratio for the daily Bitcoin box
I'm not sure if it's favorable to sell or buy on a daily basis.
From a selling perspective, it's a black candlestick that ate the previous black candlestick.
Also, from a buying point of view, I'm worried about the body, the upper tail, which is the same size as the body, and the resistance level above it even if it goes up.
So, I'm wondering if we're going to have a little bit more of a sideways period.
If it does, we'll probably end the month with a doji candle.
Like I said in the last briefing.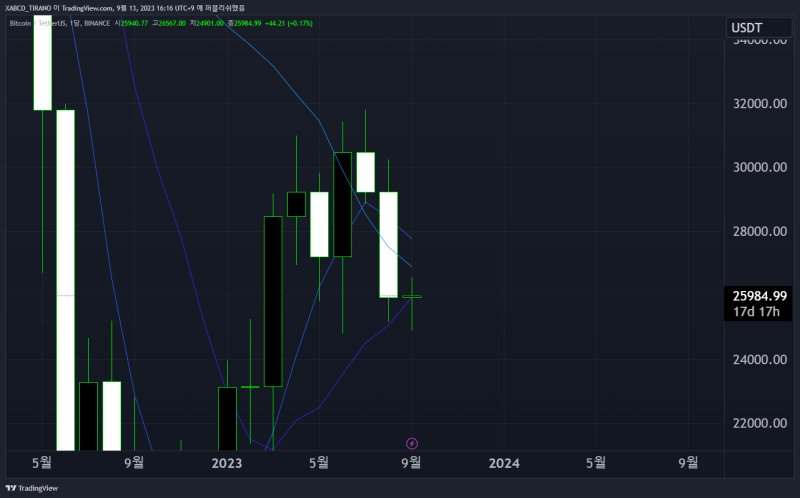 This is the monthly chart of Bitcoin.
On a weekly and daily basis, it looks like there's been a very big move, right?
But on the monthly timeframe, it's neither down nor up.
It's a doji candle.
And I want you to see that we could end up like this at the close in 17 days.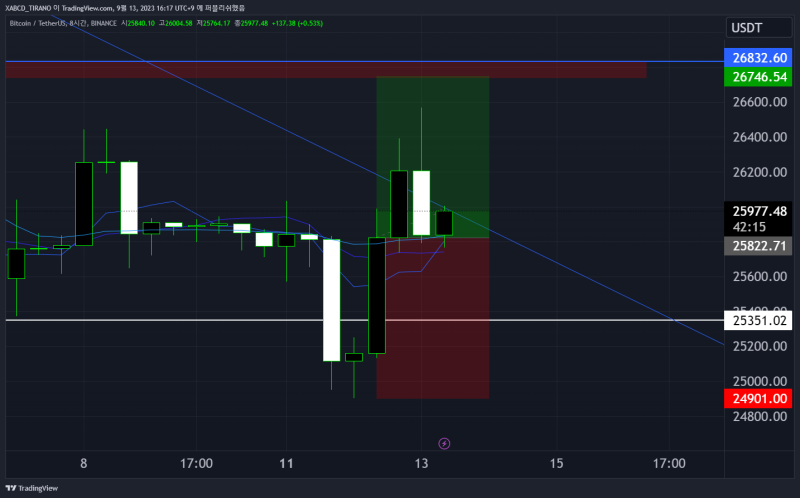 Finally, let's take a look at the 8-hour chart of Bitcoin.
In the last briefing, I said [there's no reason to buy, I'll wait until there is].
We broke below 25200, and there was a pullback.
However, it wasn't deep, and after forming a doji candle, it developed into a morning star candle.
We're feeling bearish on the weekly timeframe and consolidating on the daily timeframe.
However, on the shorter 8-hour timeframe, we have a bullish signal.
The trend is changing, albeit slowly.
At this point, I don't have a lot of confidence in the upside due to Bitcoin's continued sideways movement, but I'm willing to believe what I see.
I like to say that you only need to bet the size of your faith.
I'm sold on the spot, and I'm looking to go long on Bitcoin if it goes down a bit more. I think there's still some risk in going long.
Bet the size of your belief.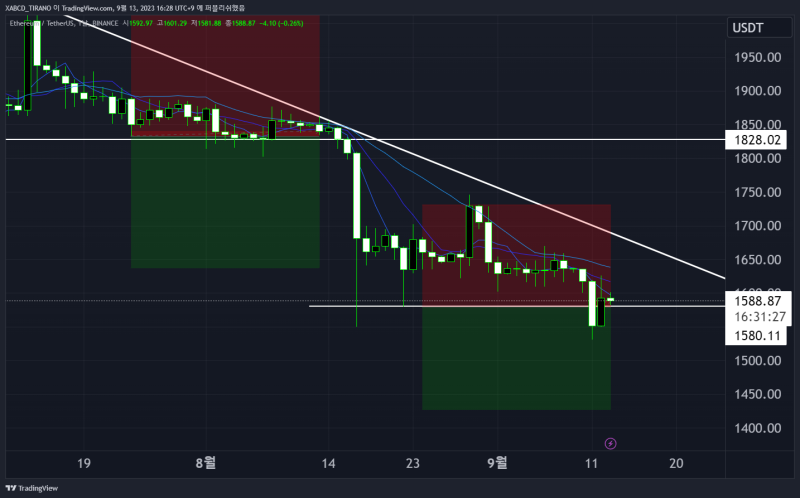 Ethereum daily chart.
Bitcoin had a Morning Star candle on the 8-hour timeframe that signaled a reversal.
It also had a close above the opening price of the previous negative candle just before the daily high.
Ethereum, however, did not.
Check it out and don't let FOMO get the best of you.
And Check out my YouTube! ↑ ↑ ↑